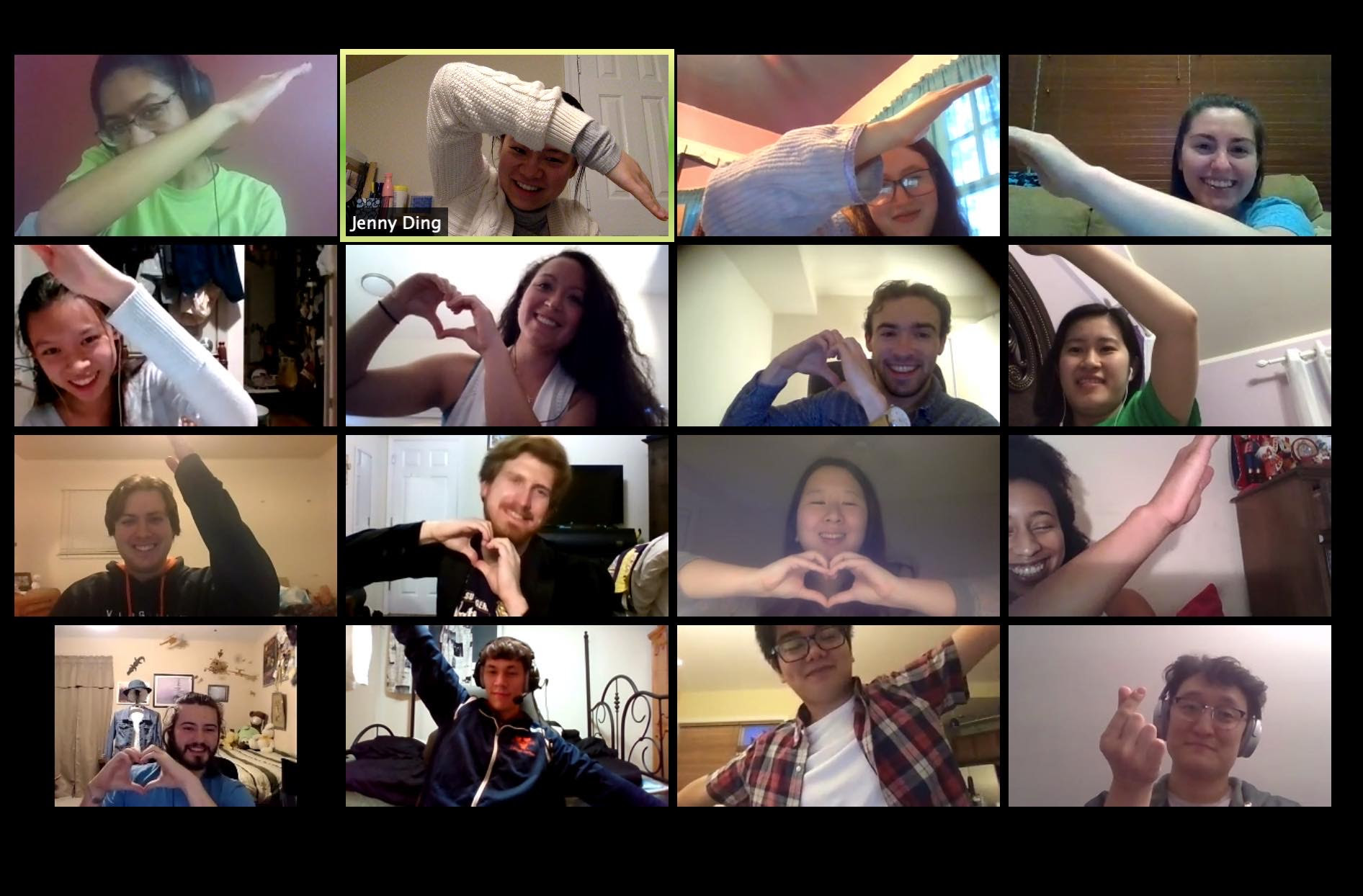 Due to the threat of COVID-19, the Ballroom Dance Club at UVA has significantly changed its operations for Spring semester, including many of the lessons learned from last Fall.  We are committed to keeping our members safe and adhering to all University guidelines (https://uvapolicy.virginia.edu/policy/SEC-045).  The Ballroom Dance Club will be active this semester through a variety of virtual and limited in-person events.
Weekly Meetings
We will meet on a virtual, weekly basis for one of two types of events:
Virtual dance lessons

, taught by our professional instructors and veteran members.  These lessons will be held over zoom for our due-paying members. These will be primarily held weekly on Tuesdays and Thursdays starting at 8pm. Our first three weeks of lessons will be free for all UVA students to attend.

Virtual weekly review sessions

, hosted by club leadership and open to due-paying members.  Time: TBD
For more schedule details, see our calendar: http://ballroomatuva.org/home-blog/calendar/
Dues
*Work in Progress*
Dues will be $50 for the semester.  This money goes entirely to mitigating the costs to have at least twenty-four professionally-instructed lessons.  We also offer a per-lesson payment of $5.  We will primarily accept dues through Venmo to Shunkai Ding.  If you are unable to pay dues this way, please contact Shunkai Ding at [email protected] to arrange an alternate means of payment.  We also provide limited need-based scholarships.  If you are unable to afford dues, please contact our Treasurer, Yolanda Yao, at [email protected]. 
Social Events
Our social chair is working hard to provide a variety of engaging activities for our members this semester.  We will be doing small in-person events, such as outdoor adventuring and meetups, following all social distancing guidelines as well as monitoring attendance to meet University guidelines. These events will have a capacity of less than 15 people and require prior signups. We will also be hosting virtual social events, such as game-nights and professional ballroom watch parties open to all members. 
Showcase, Competitions, and Annual Balls
Unfortunately, these events have been cancelled for the Fall semester to ensure the safety of our dancers and comply with university guidelines.  
 If you have any questions, feel free to reach out to our club president, Shunkai Ding, at [email protected]