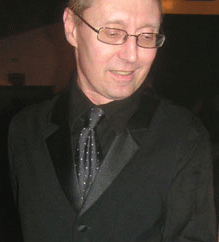 Peter Collins is a UVA alumnus who traveled from New York every week to teach the Social and Standard classes. He began ballroom dancing while a student at UVA and is pleased to be able to help current students learn the joy of dancing. But for Peter, the music is also part of the joy. Music evokes emotions and also movement, and ballroom dancing is a way to move to music that adds an additional dimension to the music's enjoyment, while sharing the experience with someone else very close, even if only for one dance.
One of Peter's favorite competition memories is when he and his partner Amy Cousins won their first Championship at the California Open. As an honor dance at the end, the couple danced a waltz. Later, one of the judges came up to Peter and Amy and complimented them on their performance. That judge was Stephen Hillier, the reigning World Professional Standard Champion from England. Peter has many enviable ballroom accomplishments, such as being a three time undefeated United States Amateur Champion, he and Amy are the only American couple to win the oldest and longest running perpetual trophy in North America, the Canadian Bluenose Trophy, and he has won the Feather Award twice, which is the dancing equivalent to an Oscar.
Peter believes that in order for club members to improve their dancing, they should come to lessons and practice every week, go to USABDA dances, dance with everyone, and try new moves at every opportunity.
Peter taught the club for many of his formative years, and now occasionally returns to the Charlottesville area for USA Dance events.